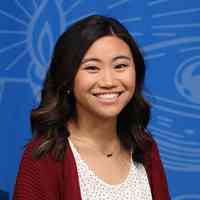 Abbie White
Admissions Counselor for Transfer and International Students
---
Abbie White
Admissions Counselor for Transfer and International Students
---
Hometown:
Lancaster, OH
College Attended:
Ohio Christian University
Major:
Music Education - Instrumental (violin)
Favorite Sports Teams:
I don't really watch a lot of sports but I enjoy watching football with my dad!
Favorite Food:
Does coffee count as a food?
Best Circleville Food:
Richie's New York Deli!
Fun Fact:
Oddly enough, I really love cleaning and organizing to relieve stress.
OCU Employee Since:
I was a student worker all through college in Maintenance and the Library. But I've been a full-time Admissions Counselor since August of 2017!
Hobbies:
I love to sing, play the violin, read, and drink a good cup of coffee!
Favorite Scripture:
Jeremiah 29:13: "You will seek me and find me when you seek me with all your heart."