Campus
Students enrolled in our residential undergraduate program attend classes and reside on our main campus in Circleville, Ohio. Explore our main campus at Circleville Ohio by viewing our Virtual Tour Gallery or interacting with our Campus Map. Discover new features and historical tidbits by clicking the map icons that appear as you browse.
1476 Lancaster Pike
Circleville, Ohio 43113
(get directions)
Students
More than 2,000 students are enrolled, with approximately 350 students in the residential undergraduate program.
Female/Male Ratio: 60% female and 40% male
94% of First-time, full-time students receive Financial Aid
Academics
Ohio Christian University is accredited by The Higher Learning Commission, Teacher Education Accreditation Council, and Ohio Department of Higher Education. It is affiliated with the Association of Biblical Higher Education and Council for Christian Colleges and Universities.  (see complete list of recognitions)
Residential Undergraduate Programs
Adult Degree Programs
Graduate Programs
Dual Credit/Ohio College Credit Plus (CCP) for High School Students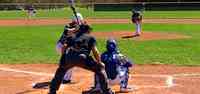 Athletics
At Ohio Christian University, champions are trained for success on and off the field. Our inter-collegiate athletics program is committed to achieving academic and athletic excellence by using the athletic experience as a platform to prepare and develop our student-athletes for lives of living vibrant faith, learning, and servant-leadership in their chosen fields of endeavor. The Trailblazers compete in the River States Conference (RSC) within the National Association of Intercollegiate Athletics (NAIA). The campus community is united together, rallying our Trailblazers to victory.
History
More than seventy years ago the Council of the Churches of Christ in Christian Union determined to establish a Christian college. After months of preparation, in September 1948, what we now know as Ohio Christian University (OCU) was opened as Circleville Bible College at 469 East Ohio Street in Circleville, Ohio. As the college grew it was becoming increasingly clear that the Ohio Street location would no longer be adequate, so more than forty acres was purchased just three (3) miles east of Circleville on US Route 22.
Core Values
Christ Centered: Our community of interdependent students, faculty, and staff seeks to honor and obey Jesus Christ, who is present in Spirit and speaks in Scripture, and to advance God's purposes in the lives of every member.
Biblically Based: Our academic and student development programs cultivate a deep and enduring faith that affirms the authority of Scripture and embraces Christ as the authentic center of life.
Student Oriented: Our undergraduate and graduate curriculum integrates faith and learning in a scholarly environment that fosters critical and creative thinking, academic excellence, and professional competence.
Ministry Motivated: Our emphasis on ministry and missions extends beyond the classroom into real-world experiences that prepare students for a lifetime of service in ministry.
Leadership Focused: Our students experience and engage the world in ways that prepare leaders to serve and transform their professions, churches, and communities.
Academically Excellent: We seek to provide an excellent academic environment for the acquisition of both knowledge and wisdom.