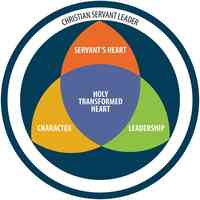 Ohio Christian University's Conceptual Framework provides direction for the development of Christian Servant Leaders---desired of all OCU graduates.
The four components are explained below, but the beginning point is the Holy Transformed Heart in the center.
 Holy Transformed Heart is the transformation of a life into a fully devoted follower of Christ, experienced through a spiritual rebirth.
 Leadership is a developing relationship of influence between leaders and followers.
 Character is the moral (behavior) and ethical (beliefs) strength of the person.
 Servant's Heart is an attitude of service motivated to action.