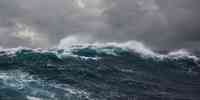 Mark 4:35-41
35 On that day, when evening had come, he said to them, "Let us go across to the other side." 36 And leaving the crowd, they took him with them in the boat, just as he was. And other boats were with him. 37 And a great windstorm arose, and the waves were breaking into the boat, so that the boat was already filling. 38 But he was in the stern, asleep on the cushion. And they woke him and said to him, "Teacher, do you not care that we are perishing?" 39 And he awoke and rebuked the wind and said to the sea, "Peace! Be still!" And the wind ceased, and there was a great calm. 40 He said to them, "Why are you so afraid? Have you still no faith?" 41 And they were filled with great fear and said to one another, "Who then is this, that even the wind and the sea obey him?"
Last June, I was attending a pre-conference retreat at an annual event for Christians who work in Student Development.  I was part of a large group of about 35 individuals who work all over the country with college students.  All our roles varied, from directors of residence life, student activities, spiritual formation to deans and vice-presidents.  On our last day together, we studied the passage above and began to reflect on it as a group.
What struck me the most about the passage, that I had never paid attention to before, were the words "And other boats were with him."
We often read, or listen to, this passage and just see Jesus asleep in the single boat with his disciples.  We only hear their voices of anxiety and panic as the waves crash large and loud all around them.  We see ourselves in their places, as life crashes around us and the fear of the loud noises overtake us.
But we do not often, if ever, see the other boats in the water.  We do not hear the other boats, crying out to Jesus, whom they cannot see.  We do not put ourselves in their situations because all to often what is out of site is out of mind.  I think, though, we must place ourselves in their shoes because that is where we are.
This passage, of Jesus calming the storm around the disciples, is often used to encourage Christians to rely on Jesus and to shore up a crumbling faith.  I want to encourage you to view the other boats while you are leaning on and deepening your faith in Jesus. 
It is not just our state, our region, our country in the throes of the COVID-19 pandemic.  It is every nation, people, and tongue.  It is every boat in all of creation out amid the waves.
---
You are not alone as you cry out to Jesus to save the boat.  Your voice is added to the multitude of voices crying out to Jesus.
---
Just as my colleagues and I reflected just 10 months ago, we are all in this together.  While we may not physically be together, we can pray and lean into God together.  Where two or more are gathered … let us be encouraged to gather our thoughts and prayers together as we seek God's power to miraculously heal creation.  Jesus is not absent from our situation.  Jesus is not sleeping and ignorant of what we are going through.  As Paul wrote to the Colossians, "He existed before anything else, and he holds all creation together."
Even as Jesus was asleep in the boat, by His power, He was holding all of creation together and had power over the storm in which the disciples found themselves.  Jesus is alive and reigning over all creation.  By His power, he holds creation together.  He has power over even this pandemic.
Prayer
Lord Jesus, you are the Creator and Sustainer of all creation.  Everything that was made, is made, and will become is through your mighty power.  Even amid this storm, the COVID-19 pandemic, your power and being is absolute.  Help me deepen my faith in you and your love for me.  Bring your Holy Spirit into my home and fill it with peace.  Show me how I can love my neighbors, the other boats in the water, through this storm.  May the news of your redemption of mankind and renewal of creation be spread far and wide as a result of this time. Amen.