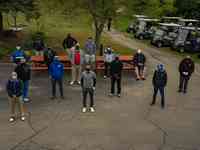 ---
---
Ohio Christian University's 29th Annual Scholarship Golf Tournament occurred on Friday, October 2nd at the Pickaway Golf Course. Twenty-five four-person teams enjoyed a round of golf raising over $30,000 to fund scholarships for current students. These OCU Scholarships are awarded to current campus students each spring at the Annual Scholarship Banquet.
"The golf tournament is one our major fund-raising events for student scholarships," explained OCU President Dr. Jon Kulaga. "The engagement and generosity of each of the golfers is critical to our ability to assist OCU students with financial needs as they seek to acquire a Christ-centered, Biblically-based education."
Eighteen OCU alumni attended, including 2013 graduate Chris Thompson. "It's just a great time when you can come and raise money for a good cause," Thompson said. "Plus, you get to have fun doing it. I enjoy getting out there with alumni of OCU. We laugh, talk about old times, and compete hard to win the prizes."
1st Place went to the Wint Financial Services Team consisting of Team Leader David Wint, Ty Pell, Chad Wilson and OCU's Mark Taylor. The Proshield Team, made up of Team Leader Tim Stonerock, Brian Chaney, Gary Young and OCU Golf Coach Brent Martin earned 2nd Place. Neil Uhrig's team, including Jason Uhrig, Kyle Uhrig and Jerry Mowery, took 3rd Place. Neil is a recently retired member of The Guardians gospel quartet.
2011 graduate Joshua McGrady explained it is important for him to support the Scholarship Golf Tournament because of his experience at OCU. "My time at OCU was so valuable to me. Being able to play four different sports during my time there and the lifelong friends I made because of it are something I can't put time or a dollar amount to. Being able to reunite and enjoy a day with some of those friends is a highlight of the year for me."
The continuing generosity, camaraderie and goodwill of this tournament's sponsors and donors is greatly appreciated. OCU would like to extend a special thanks to:
All sponsors (to see list, click on pdf below)
Corporate Sponsor, Prasco Laboratories
Abby Huggins, Manager of the Pickaway Golf Course, for her excellent assistance.
Gary Burns, Owner of Circleville Buffalo Wild Wings, for providing a delicious lunch.
Kyle Miller of the Arington Foundation for his assistance before, during and after the event.
The 30th Annual Scholarship Golf Tournament will be held on June 19, 2021 at the Pickaway Golf Course in Circleville, Ohio.