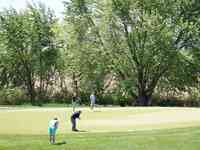 ---
---
Ohio Christian University's (OCU) 31st  Annual Scholarship Golf Tournament occurred on Monday, May 16th at Pinnacle Golf Club in Grove City, Ohio. Twenty-four four-person teams enjoyed a round of golf raising over $50,000 to fund scholarships for current students. These OCU Scholarships are awarded to current campus students each spring at the Annual Scholarship Banquet.
"The golf tournament is one of our major fund-raising events for student scholarships," explained OCU President Dr. Jon Kulaga. "The engagement and generosity of each of the golfers is critical to our ability to assist OCU students with financial needs as they seek to acquire a Christ-centered, Biblically-based education."
WesBanco was a golf ball sponsor, and Missi Rhodes, AVP & Banking Center Manager, said about the day: "WesBanco appreciates the opportunity to give back to the community and to support our local students through the OCU Annual Scholarship Golf Outing.  Pinnacle is a beautiful course and took great care of us this year at the outing.  We look forward to playing again next year."
The day concluded with a banquet with special guest speaker Craig Krenzel, former Ohio State University quarterback. In summarizing all the events of the day, Kulaga had this to say, "Perfect course, perfect weather, perfect dinner and speaker, and perfect guests!  It was a great day of fun – and a wonderful way to raise scholarship dollars for Ohio Christian University students – who desire a high quality education taught from a Biblical worldview by Christian faculty! A perfect education! Already looking forward to next year!"