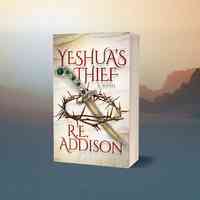 ---
---
On November 10-11, 2021, Ohio Christian University will host R.E. Addison, Class of 2021, on campus after the release of his book, Yeshua's Thief. Set in 28 A.D., Yeshua's Thief is the story of the family of a thief on the cross who was forgiven. It is a story of sacrifice, redemption, and romance. 
Ohio Christian University President Jon Kulaga states "being able to celebrate the success of our students is a joy and a privilege.  R.E. is fulfilling his calling as a pastor, enjoying success as a husband and father, and now as a writer.  Ohio Christian University's Christ-Centered model of education is written to help people flourish as they were designed, living life to their fullest while bringing glory to our God." 
Addison's visit to campus will include small events for all members of the OCU community. Thursday evening at 6:00 PM, R.E. will read a portion of the novel and sign copies in Detty Chapel. This event is open to the public and everyone is welcome.  Additional information about the event can be viewed on the Yeshua's Thief Book Signing Event Page. Attendees will receive a special gift from the author as a souvenir. 
R.E. Addison is an Assistant Pastor in South Florida. He and his wife Blanca have two children, Ryan, and Karlie. He holds a bachelor's degree in Philosophy and Religion from Palm Beach Atlantic University and a Master of Business Administration from Ohio Christian University. He has written many plays, including Yeshua's Thief the Musical and Bamboozling Scrooge, which will be adapted into a book later in 2022. There are plans for the subsequent novels Yeshua's Slave and Yeshua's Way.
Addison's book is published by Morgan James Publishing and will go on sale on November 2, 2021.
For more information please contact mblanton@ohiochristian.edu or 740-477-4506.