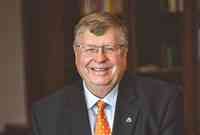 ---
---
The Ohio Christian University Board of Trustees and the General Board of Trustees of the Churches of Christ in Christian Union are pleased to announce that Interim President, Dr. Ronald E. Smith, has been selected as President Elect of Ohio Christian University.  Dr. Smith will be transitioning from being President of the Francis Asbury Society to the new role of President of Ohio Christian University in the next few months.  His full duties as President of OCU will commence on January 1st, 2023.  More details will follow.
We are excited that Dr. Smith will be joining our team as the next Ohio Christian University President.  We believe God has directed and ordained this appointment.  Thank you for your continual prayers as we work through this transition. 
Please welcome Dr. Ron Smith and his wife, Dorena to our OCU and CCCU family.
Dr. Smith has had a burden for mentoring Christian higher education students, and for years hosted weekly meetings for spiritual growth and study with college and seminary students in his family home. In addition, Smith has served the local church as a youth pastor, associate pastor, senior pastor, and church planter. He is an ordained deacon and elder in the Greater New Jersey Conference of the United Methodist Church since 1982.  Dr. Smith served The Francis Asbury Society from 1993–1998 as a Fellow and for two years as Executive Director. In 1998, he was elected as the fifth president of Wesley Biblical Seminary in Jackson, MS, where he served for thirteen years. Upon retiring from the presidency, Smith rejoined The Francis Asbury Society in January of 2011, serving as Executive Director, as President, then as a speaker, a Board member, and in 2020 as President again.