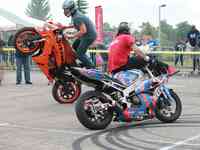 ---
---
CIRCLEVILLE, OH (AUG 5, 2022) – Ohio Christian University is pleased to host an exciting Community Fun Day on their campus on Sunday, August 28th between 1:00 – 4:00. The event, which is free admission and geared for the whole family to enjoy, will feature a motorcycle stunt show, cruise-in, food trucks, live music, giveaways, and info booths from local resource centers.
In addition to incredible stunts, they also share an inspirational message. Scott Caraboolad, formerly "Starboy Scott" of Starboyz, and founding member of Ride4Life affirms: "I have experienced misery, failures and addictions. But there comes a time in your life when you choose to ride down a new road."
Bill Glass Behind the Walls is the sponsor behind Ride4Life. CEO, Michael Nolan shared:
Bill Glass, as an NFL standout for the Cleveland Browns in the 60's, loved Ohio and looked for ways to give back to the communities in the great state.  Our organization is excited to be a part of such a unifying community event and while we are in town, we will also be spending some time in the Circleville Juvenile Facility to engage and bring hope in that community within the community.
All classic/custom/sport cars, trucks and motorcycles wishing to participate in the cruise-in should arrive on campus by 12:30. There is no registration cost.