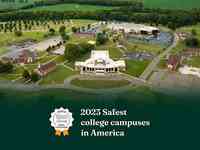 ---
---
Ohio Christian University moved up to 10th place place on college data and review site Niche's list of the top 25 safest college campuses in America. Niche analyzed data and student reviews to look at which campuses are the safest. This honor did not escape the attention of Mental Floss website, read their article here.
Niche's Safest College Campuses ranking is intended to highlight colleges with little to no campus crime, drugs, or alcohol usage.  They consider not only the campus data, but also the crime incidents in the local area, rates for violence and arrests, and comb through student survey responses when considering a campus to be designated among the safest in America.
Student safety is highly important at Ohio Christian University as it helps foster a healthy learning environment for our students.  "Having a safe college environment is critical for students."
Ohio Christian University is a Christ-centered, liberal arts institution that integrates faith and learning, equipping students academically and spiritually for a variety of real-world careers. With ways to earn degrees through online or classroom options, our supportive faculty foster excellence and integrity in a caring community.