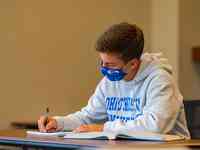 ---
---
Due to the limited availability of standardized testing during the COVID-19 pandemic, Ohio Christian University will not require a standardized test score (ACT, SAT, CLT, etc.) as a requirement for Fall 2021 incoming students.
"The hope is that this will lift the burden on prospective students as they try to plan out their futures in the midst of an uncertain and changing situation," said Vice President of University Enrollment Kevin Jones. "Students have had limited opportunities to take standardized tests over the last year, and we want our admissions process to remain open to them."
A prospective student may still decide to submit a test score which will supplement his or her application. For students who do not submit scores, academic transcripts will be the primary source for making an admission decision and assigning academic scholarships.
For more detailed information, please visit our Test Optional FAQs page.