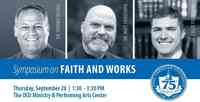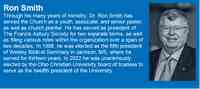 Please join us for the Symposium on Faith and Works, hosted in the OCU Ministry & Performing Arts Center on Thursday, September 28th from 1:30-3:30pm.
The symposium is being led by Dr. Ron Smith, President of OCU.
Guest Speakers include: Dr. Thomas McCall, Dr. Matt Friedeman, and Dr. Caleb Friedeman.
Please go to the the link below to Register.
https://www.eventbrite.com/d/oh--circleville/ohio-christian-university/