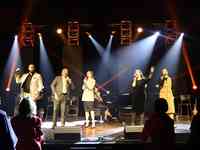 ---
---
Ohio Christian University was honored to host The Collingsworth Family and Renewanation for a night of worship and encouragement on Thursday, Oct. 20th in the Ministry and Performing Arts Center. With over 800 tickets reserved, the event was a wonderful way to bring families and audiences of all ages together for a Christ-centered evening. 
We count it a privilege to work with organizations that reinforce the importance of cultivating a Biblical worldview in the upcoming generations. Jeff Keaton, founder and president of Renewanation, presented us with the "six reasons why we must give our children and grandchildren a Biblical worldview," and the Collingsworth Family encouraged all in attendance with inspiring music, reminding us of the hope that we have in Jesus.  
A special thanks to Coach Ally Coyle and the OCU volleyball team for being the primary volunteers for this event. By taking time out of their fall break to serve their community and graciously host our guests, the OCU volleyball team continues to live up to their River State's Conference Team of Character award.