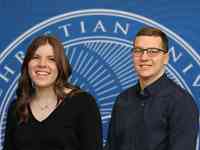 ---
---
Ohio Christian University's Scholars Day competition for the first Commitment to Excellence full-ride scholarships has successfully concluded, and we are proud to announce that Mike Conway and Hannah Skaggs have been selected as the scholarship recipients.
After three rounds of interviews, these two outstanding students received the highest marks and were personally awarded by Phil Hooks, the Vice President of Enrollment, with their scholarship certificate and an official scholarship award letter from President Smith. The Scholars Day panelists were thoroughly impressed by all of the candidates this year, and our two winners had strong competition during the interview process. However, we are confident that Mike and Hannah will be well-deserving of their Commitment to Excellence awards.
Mike Conway is a graduating homeschool student from Louisville, OH who has already completed almost 70 hours of dual enrollment credit. He is an active member in his church and enjoys leading worship and volunteering as a student leader. Mike has also invested many years into Boy Scouts and earned the highest rank of an Eagle Scout. He now invests in Boy Scouts as an adult leader. Right now, Mike is interested in studying Sport Business Management at Ohio Christian University and potentially double majoring while also participating in worship leadership opportunities.
Hannah Skaggs is graduating from Seneca High School in Louisville, KY, and she is heavily involved in her school, church and volleyball team. Hannah has incredible leadership qualities which she uses as a Seneca school ambassador, the President of Seneca High School's National Honors Society, and a Fellowship of Christian Athletes character coach. She also serves as a captain for her volleyball team and hopes to continue her volleyball career at Ohio Christian University while pursuing her long-term goal of becoming a high school math educator.
Ohio Christian University is very excited to add these two Commitment to Excellence recipients to our Trailblazer family, and we look forward to seeing them continue their academic and spiritual journey on campus this fall.