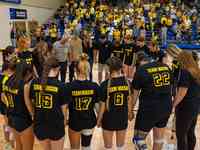 ---
---
MIDDLETOWN, Ohio -- The Ohio Christian University (OCU) volleyball team was selected as the National Association of Intercollegiate Athletics (NAIA) River States Conference (RSC) Women's Team of Character Award winner for 2021-22. The Trailblazers' volleyball team was chosen after a vote from the RSC Champions of Character Committee. 
The RSC Team of Character awards honor one men's and one women's team each year for their exemplary character and sportsmanship on the field, on campus and in the community. Teams are selected by demonstrating the NAIA's five core character values of Integrity, Respect, Responsibility, Sportsmanship and Servant Leadership. The award is patterned after the national team of character award presented by the NAIA.
"I could not be more proud of my team," said Ally Coyle, OCU head volleyball coach. "They all chose to buy into our core values this past year, and they truly were an amazing examples of how to love, serve and encourage others."
The Trailblazers were involved in multiple community service projects during the 2021-22 academic year. The team participated in a service project each month of the year. Each project embodied the NAIA five core character values but with an added emphasis for servant leadership toward the campus as well as toward the community. 
In October of 2021, OCU volleyball hosted a "Yellow-Out" game in support of Mason Roese, a cancer patient from the local Circleville area. The event brought in over $2,000 in support of Mason and raised awareness for Ewing's Sarcoma. Sadly, Roese passed away Nov. 29, 2021. The team is planning another game in his honor this coming year.