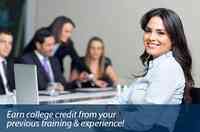 Prior Learning Assessment (PLA)
At Ohio Christian University, we understand that what you know is more important than where or how you learned it. Since adult learners can attain college-level knowledge in many ways, we offer the opportunity to earn college credit based on your previous training and experience.
Students can earn semester credits through a portfolio process:
A maximum of 12 semester credit hours for associate-level (which does not count toward Advanced Standing), or 24 semester credit hours for bachelor-level may be earned by PLA. In most cases, PLA credit is used for elective credit.
These units can come from a number of different sources, including:

workshops
seminars
self-study
non-credit classes
training programs
work experiences
The College evaluates and grants appropriate units for the student's learning (not just the experience) from these sources.
A PLA Portfolio class is offered at various times throughout the year. Students taking this course will be instructed in prior learning assessment and how to write for college credit based upon their background and training. Students may write for up to 12 credit hours as part of the course work. Bachelor students may write for up to an additional 12 credits thereafter.
See the AGS Catalog section titled "PLA Requirements" for more details.
Sponsored Pastoral Training
Students can earn semester credits from pastoral or ministry training courses of study:
Eligibility for maximum of semester credits through SPT is based on years of ministry experience.
The criteria for these courses of study are (a) authentication by the denomination or church leadership and (b) combination with active ministry experience. Sources may be home study, ordination requirements, etc.
Students may receive one credit for each course completed. SPT credit is used for general elective credit only.
See the AGS Catalog section titled "Sponsored Pastoral Training" for more details.