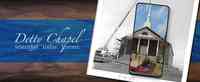 Since the Detty Chapel's inception, nearly every student who has attended class on the Circleville campus has gathered to worship our Savior in this building. From church camps to college classes, weddings to revivals, memorials and music concerts, Detty Chapel has been visited by countless people over the years. So many lives have been transformed forever. University Church, a CCCU church partner, currently hosts a variety of ministries and services throughout the week.
Today, Detty Chapel is deeply in need of restoration and maintenance. To continue providing inspiring worship and to expand our transformative ministry to Circleville and beyond, we must improve this aging building.
Funds raised through this campaign will go toward:
Improvements of the front walkway and entrance
Cleaning and painting the steeple
Restoring the sanctuary ceiling
We ask that you prayerfully consider coming alongside us. Your generous gift will ensure that the Detty Chapel will continue to be a center of worship on our campus and a place of impact in the lives of the many that will pass through its doors.  Contact the Office of Strategic Development at advancement@ohiochristian.edu or 740-478-2296 with any questions or click below to support the Detty Chapel.
To share a great memory of how the Detty Chapel impacted your walk with Christ, click below.