Annual giving is vital to Ohio Christian University. Our mission of preparing students to serve effectively in the church and society by providing a holistic, Christ-centered, biblically integrated education in the Wesleyan tradition is carried out by providing students with an excellent education.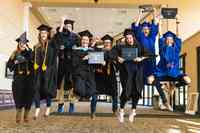 Students rely on the support of gifts to the Impact Fund in order to receive an OCU education. The Impact Fund serves to provide unrestricted support for students in the areas of scholarships, career enhancement (résumé writing, training, etc.) and student services (clubs, organizations, small groups, etc.). This fund also assists faculty in providing the best education possible through professional development opportunities, technology in the classroom, and the launch of new and the enhancement of current academic programs. Gifts of any size make a difference and have allowed OCU to change the lives of thousands of students since 1948!
Support Impact Fund recipients at Ohio Christian University today.