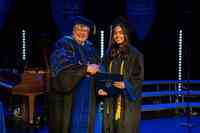 ---
---
Ohio Christian is proud to announce that '23 graduate Elizabeth "Liz" Ennis was admitted into the University of Alabama's PhD in Experimental Psychology program starting this fall. Liz received a full-tuition-plus-living-stipend Graduate Research Assistantship. Because of Liz's quality undergraduate work and high-level academics in Ohio Christian University Psychology program, she will be well equipped for this research and leadership role at the University of Alabama.
Liz came to Ohio Christian from Logan, Ohio and, in addition to her involvement in the Psychology program, she worked for OCU's Student Involvement Council, helping plan student events like the Film and Arts Festival, Mr. And Miss and more. Her best advice to underclassmen is to "ask a lot of questions in class and talk to your professors about various paths your interests can take you."
Ohio Christian University is proud to have alumni like Liz furthering their education and bringing the light of Christ to their field.