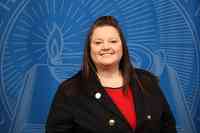 ---
---
Ohio Christian University's very own University Registrar, Michelle L. Blanton, has been named Circleville, Ohio's newly elected Mayor. Michelle officially takes office on January 1st, 2024.
While Michelle is serving as Ohio Christian University's current Registrar, the influence that OCU has had on her life began at birth. Her family began taking her to Sedalia Church of Christ and Christian Union just after she was born. Mount of Praise Camp Meeting, now held on OCU's campus through the Church of Christ and Christian Union, was a huge part of her childhood. It was this very camp that led Michelle to invite Jesus into her heart at the age of 8 years old. In the coming years, she also attended Kids Camp and Junior Youth Camp (JYC). These camps, through their leaders and counselors, also had a tremendous impact on Michelle's life.
Following high school graduation, Michelle began attending Ohio Christian University as a student. Originally thinking she was called to Youth Ministry (due to the significant impact that the CCCU camps had on her), she changed her major twice before completing her degree. During her time as a student, Michelle met her soon-to be husband. (And yes, they did walk around the circle and across the bridge at the front of campus.) In the spring of 2008, Michelle graduated from OCU with a bachelor's degree in Business Management.
Just after graduation, Michelle began working full time at OCU. She is a long-time employee and has now been serving at OCU for 15 years in several departments including AGS Academic Advising and Admissions, Advancement, now the University Registrar's Office. Since graduating from OCU, Michelle has been hard at work, not only in the City of Circleville, but also in Pickaway County, and the State of Ohio by serving on multiple boards. At home, she is the proud wife to Travis, and mom to her 3 children, Treyton, Mackenzie, and Elijah.
Ohio Christian University is proud to have been a part of Michelle growing up to be who she is today. We look forward to seeing the ways that she will help the city of Circleville to grow, and the ways that OCU students will be able to connect and grow in this small Ohio town.