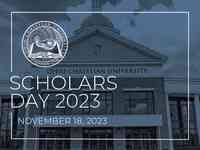 ---
---
Ohio Christian University is excited to announce three Commitment to Excellence Full-Tuition Scholarships will be awarded to our Scholars Day competition winners this Fall. Ohio Christian's Admissions team is hosting the next Scholars Day competition on Saturday, November 18th . Qualifying high school seniors or incoming transfers can apply and compete for one of the three full-tuition scholarships.
To compete, applicants must have a 3.5 cumulative GPA or higher,at least a 25 ACT composite score or 1210 SAT scoreand be accepted to Ohio Christian's on campus program. When completing the Scholars Day application, students must list community service projects or activities, submit two letters of recommendation, and write a 1,500-word essay. At the Scholars Day competition, students will interview with two separate panels—one panel being the Associate Deans from our four academic schools.
The Ohio Christian Admissions team is excited to host Scholars Day and award three promising individuals a scholarship that reflects their commitment to excellence and outstanding character. All scholarship application materials, including acceptance to OCU, are due by Friday, November 10th .
Apply now to start your application process at OCU and complete the Scholars Day application.Visit https://www.ohiochristian.edu/scholarsday to learn more about Scholars Day.